ESC Congress 2018 feedback – Dr Charles Kyriakakis
Nov 13, 2018
ESC Congress 2018 feedback – Dr Charles Kyriakakis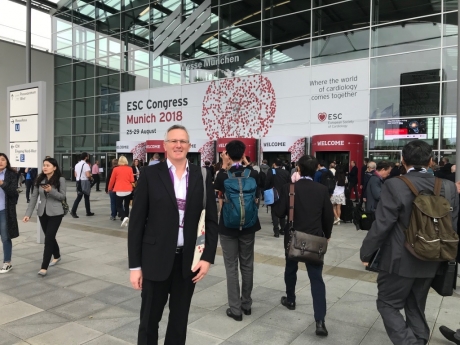 I would like to extend my gratitude to the HeFFSA executive committee for providing me with the opportunity to attend the ESC Congress 2018 by awarding me a HeFFSA travel award. Not only did it allow me to attend the meeting, it also made it possible for me to present an abstract on my pericardial research in poster format at the congress(1).
This year's congress was held in Munich at the Messe München exhibition centre from 25 – 29 August. Over 32 000 healthcare professionals attended the conference where a total of 92 late breaking science studies, 17 late breaking clinical trials, 5 clinical practice guideline updates and 4500 abstracts were presented. As always, the congress venue was well suited to manage the large number of delegates and the meeting offered a wide variety of varying sessions covering all of the major cardiology topics and disciplines. On day 1, arriving early in the morning I thought I would manage to secure a seat in the first morning session that provided an update on the management of stable coronary artery disease (SCAD) in 2018. With the release of ORBITA, and other exciting data on SCAD this year, and having written an editorial evaluating the recent evidence on SCAD for the SA Heart Journal earlier this year(2), I targeted this session as an important one to attend. To my surprise, the tiny room it was being held in was already packed with the doors closed before the session could start with a long queue of hopeful delegates outside waiting for a potential space to open up. This very clearly set the seen for the demand that would be placed on available seating by the over 32000 delegates competing to attend the more popular sessions.
During the inaugural opening session, the president of the ESC, Jeroen Bax provided an interesting insight into what the future, and in particular the rapid and unstoppable force of technological advancement, holds for cardiology. Professor Eugene Braunwald, delivered the keynote address entitled "Academic and Industry relations" in which he outlined the relationship between academia and industry, and the individuals involved, in the discovery, evaluation and marketing of the first of the statin class of drugs. This was followed by the airing of a recorded interview featuring Barbara Streisand, who is both an advocate for, and philanthropic investor in, furthering the advancement of research into cardiovascular (CV) disease in women. Through the establishment of the Cedars-Sinai Barbara Streisand Women's Heart Centre and the Barbara Streisand Women's Cardiovascular Research Centre and Education Programme, Streisand has forged a way forward for more research to be undertaken in CV disease and its impact on the female sector of the population, a previously underrepresented sector of the population in CV research. ESC gold medal awards were bestowed on: Dr Marc Alan Pfeffer (Harvard Medical School, USA) whose main research interest has been the attenuation of adverse ventricular remodelling by ACEIs following myocardial infarction, Professor Evgeny Shlyakhto (Alamzov Centre, Russia), and Professor Ottavio Alfieri (S. Raffaele University Hospital, Italy) whose main area of interest is mitral valve repair, in particular having developed the initial surgical technique of edge-to-edge repair of the MV, the Alfieri stitch. The session was closed off by a typical Bavarian "oompah" band leading delegates to the ESC Professional members lounge for a networking cocktail party.
On day 1 I chose to attend the Late Breaking Science in Interventional Cardiology-1 session. Presented during this session, the FUTURE trial, TMVR registry and CULPRIT-SHOCK 1 year data, were of particular relevance. The FUTURE trial (FUnctional Testing Underlying Revascularization), performed in 31 French Academic centres, and presented by Gilles Rioful, set out to test the following hypothesis: In multivessel coronary artery disease does FFR help to guide treatment strategy (PCI, CABG or medical therapy) and thereby improve clinical prognosis compared to traditional management?Patients were randomised to either an angiography-guided management strategy, or alternatively an FFR-guided treatment strategy. This is the first trial to assess whether or not FFR-guided treatment decision making, compared to angiography-guided, has a positive influence on hard clinical endpoints. It was designed to be powered for the superiority of FFR-guided vs. angiography-guided management, for a composite primary outcome of all-cause mortality, MI, repeat revascularisation and stroke at 1-year. Once randomised, treatment decisions, which could be either PCI, CABG or medical therapy, were taken by the interventional operators / managing clinician. For the group as a whole the referral rate for CABG was unexpectedly low at 12% for both the FFR- and angio-guided groups. To the surprise of the investigators, the study had to be terminated early after a data safety and monitoring board review, due to an increased risk of all-cause death in the group assigned to an FFR-guided approach. This was an unexpected finding and the majority of deaths in the FFR-guided group were found to be CV in nature and not procedure related. An exploratory analysis of those who had died found that the FFR-guided group had far higher SYNTAX scores and more severe multi-vessel disease, than the angio-guided group. Despite this they were also far more commonly treated with PCI, suggesting incorrect treatment assignment in the FFR-guided group. Furthermore, there was no difference in the primary composite endpoint between the 2 groups at one year. Further studies assessing an FFR-guided approach are underway.
The TMVR registry, a multi-centre registry of patients undergoing transcutaneous mitral valve replacement for degenerated bioprosthesis (valve-in-valve – ViV), failed annuloplasty rings (valve-in-rings ViR) and severe mitral annular calcification (valve-in-MAC - ViMAC), was presented by SH Loon. Overall, this represents a high-risk group of patients who are deemed to not be suitable for repeat surgical intervention, with a 1-year all-cause mortality rate of 20% for the overall treated cohort of 521. The mortality rate, despite TMVR, was highest in the ViMAC (62.8%), followed by ViR (30.6%) and then ViV group (14.0%). Similarly, procedural success rates were lowest in the ViMAC group, followed by the ViR group who had a considerable degree of post-procedural mitral regurgitation, an independent predictor of adverse outcome. Furthermore, valve thrombosis, although uncommon, occurred more often in those who did not receive post-procedural oral anticoagulation. This data clearly demonstrates that TMVR is not an option for those suffering from MAC.
The one-year follow up data of the CULPRIT-SHOCK study, presented by Holger Thiele, assessed whether or not culprit lesion only PCI was superior to multivessel PCI in those presenting with STEMI and cardiogenic shock(3). The one-year data essentially confirmed the 30-day outcomes that were published in the NEJM in December last year(4). 30-day all-cause mortality is higher in those who undergo multi-vessel PCI, as is the requirement for renal replacement therapy, compared to those who undergo PCI of the culprit vessel alone. At one year the primary outcome of all-cause mortality or renal replacement therapy occurred more commonly in the multivessel PCI group (RR 0.87; 95% CI 0.76-0.99, P=0.048), whilst all-cause mortality on its own was high in both groups as expected, at 56.9% for multi-vessel PCI vs. 50.0% for culprit only (P=0.07), there was no statistically significant difference between the two groups at one year. As secondary outcomes, both 1-year rehospitalisation rates for heart failure (5.2% vs. 1.2%, P=0.003), and repeat revascularisation (32.3% vs. 9.4%, P<0.001), occurred more commonly in the culprit only PCI group. The recommendation for routine multivessel PCI in STEMI patients with multivessel disease (MVD) and cardiogenic shock has appropriately been updated to a class III, B recommendation in the updated 2018 revascularisation guideline released during this year's congress(5).
Another important update in this guideline document is that in diabetics with SCAD and MVD, surgical revascularisation is recommended over PCI, even in those with a SYNTAX score < 23, a reflection of data released earlier this year(5,6).
Of the late breaking science trials, the highlight of the annual ESC congress, presented at ESC 2018, the following hold the potential to significantly impact our clinical practice: ARRIVE, ASCEND, ASCEND – OMG3, ART, ATTR-ACT, POET and AIMS. Most of the studies presented during the 5 Hot Line trial sessions have already been published and are available for review. In terms of heart failure, the ATTR-ACT study that assessed the safety and efficacy of Tafamidis in Transthyretin Amyloid cardiomyopathy was undoubtedly the main draw card(7). Presented by Dr Claudio Rapezzi, to a packed to capacity main arena with only standing room available to a large number of delegates, this was undoubtedly considered to be a "main event" at the congress. Why all the fuss over cardiac amyloidosis, considered to have a dismal prognosis? Firstly, wild-type Transthyretin amyloidosis (ATTRwt), previously known as senile amyloidosis, predominantly affects males and is a common cause of restrictive cardiomyopathy and HF-PEF during the 7th decade of life. It remains underdiagnosed, being the cause of HF-PEF in 13% of the elderly, and interestingly, recent data has revealed that it is a common cause of low-gradient aortic stenosis, affecting 16% of elderly patients undergoing TAVI. Bone scintigraphy (99mTC-DPD) of the heart, is the current non-invasive diagnostic method of choice for ATTRwt in individuals presenting with HF-PEF and a ventricular wall thickness on transthoracic echocardiography (TTE) ≥ 12mm(8). The ATTR-ACT trial is the first phase 3 study to evaluate the safety and efficacy of an orphan drug in Transthyretin amyloid cardiomyopathy. Males in their 7th decade accounted for 90% of the study population, female gender provides a protective role against myocardial involvement, with a restrictive cardiomyopathy phenotype at TTE and median NT-proBNP of 3000 pg/ml. 75% had ATTRwt, and 25% the mutant, hereditary form (ATTRm). Tafamidis binds to and stabilises the native TTR tetramer, preventing its dissociation into monomers, the rate limiting step in the formation of TTR amyloid protein. In comparison to placebo at 30 months, Tafamidis led to a significant 30% reduction in all-cause mortality and a 32% reduction in the rate of CV-related hospitalisations. This trial is a significant advance in the management of a condition with a previously dismal median survival of 3 years when left untreated.
Aspirin took a battering in two large, well conducted studies that add to our knowledge on its value in primary prevention within moderate and high-risk populations. Prior to ARRIVE and ASCEND, both presented at ESC 2018, there have been approximately a dozen studies conducted evaluating the effectiveness of aspirin in primary prevention. These have however included individuals with a low-risk for CV events at baseline. ARRIVE and ASCEND therefore explored its value in higher-risk populations. ARRIVE included 12546 non-diabetic patients with moderate estimated risk of CV events(9). Despite a mean 10-year Framingham CHD risk for the study population of 14%, and mean ACC/AHA 10-year ASCVD risk of 17%, their observed risk over the trial duration was much lower at 8.4%, emphasising how these scores tend to overestimate risk in the current era. Whilst no difference was found between placebo and 100mg daily of enteric coated aspirin for the composite primary outcome of: time to first occurrence of CV death, unstable angina, myocardial infarction, stroke or transient ischaemic attack, there was a suggestion of a decrease in first non-fatal myocardial infarction events in the treated group. As expected, the risk of bleeding was increased with aspirin, severe GIT bleeding however occurred rarely. ASCEND assessed the diabetic population and included 15480 diabetics, 94% of whom had type 2 diabetes(10). Whilst 100mg of enteric coated aspirin significantly reduced the composite primary outcome including: CV death, nonfatal MI, non-haemorrhagic stroke or TIA [HRR 0.88 (0.79-0.97) p=0.01], this was counterbalanced by a significant 29% increased risk of major bleeding. The risk-benefit ratio of avoiding serious vascular events (SVE's) with aspirin remained offset by major bleeding events even when the investigators sub-divided the study population according to their baseline 5-year risk of CV events. The risk of bleeding was found to increase as the 5-year risk of CV events increased. Furthermore, the risk of developing colon cancer, previously observed to be lower in those on aspirin in observational studies and meta-analyses, was not reduced in the treatment arms of neither ARRIVE nor ASCEND.
ASPREE, another study assessing the potential value of aspirin in the primary prevention of almost 20000 individuals aged over the age of 70, has recently confirmed the findings of both ARRIVE and ASCEND(11). Aspirin did not reduce CV events in this population and once again led to an increased risk of bleeding. It is interesting to note that the observed CV event rates in all of these trials were much lower than the estimated event rates suggesting that our current risk equations used to predict CV events are outdated.
ASCEND also included an arm assessing the potential value of Omega-3 fatty acid (OM-3 FA) supplementation in reducing first time CV events in a population at high-risk for such events(12). Compared to placebo 1g daily of OM-3 FA supplementation failed to provide any benefit compared to placebo in reducing SVE's or the occurrence of any malignancy. This is the largest and longest duration placebo-controlled trial of OM-3 FA supplementation to date. In 2015 this industry was estimated to be valued at $31 billion with an associated significant environmental impact given the requirement to produce large quantities of refined fish oils for consumption as daily supplements. Whether or not ASCEND will have the final word on OM-3 FA supplementation for the prevention of CV events awaits to be seen. The results of REDUCE-IT, assessing a higher dose (4g daily) of a more refined extract of Icosapent Ethyl, in high-risk individuals who have elevated triglyceride levels despite statin therapy, will be released later this year at AHA/ACC Scientific sessions in Chicago.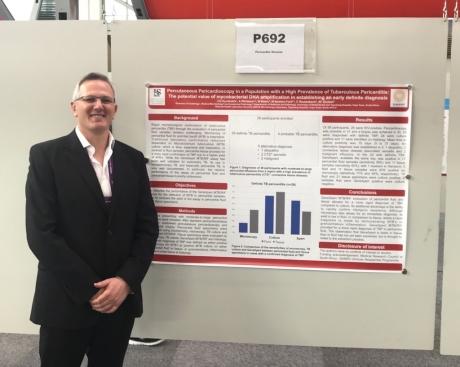 On the cardiothoracic surgery front, David Taggart presented the 10-year mortality data of the ART (arterial revascularisation) trial, a follow up on the one-year outcomes reported in 2010(13). The study randomised 3102 patients to either bilateral or single internal thoracic coronary artery (ITA) bypass grafts during CABG. Disappointingly, for both the cardiology and cardiothoracic surgery communities there was no difference in mortality between the two groups at 10-years. Due to a high crossover rate, 36% of participants did not receive their assigned therapy. An "as treated analysis" was therefore undertaken which revealed a clear benefit in the group who received bilateral ITA's. Dr Taggart went to great lengths to explain how surgeon experience was vital in determining patient outcomes, with the highest volume surgeon, who recruited 400 patients, and who had a crossover rate from bilateral to single ITA of only 1.2%, having the lowest mortality rate. The number needed to harm for the overall cohort was 78 for the development of sternal wound sepsis. This was found to be a concern in overweight diabetic patients, and not in those with a normal BMI. An interesting point raised at the end of the discussion was whether or not CABG surgery should become a sub-speciality similar to mitral valve repair to provide for better outcomes with arterial revascularisation. The ROMA trial which is currently recruiting will offer better quality control in that participating surgeons first had to prove their capability in performing bilateral ITA surgery before being included as investigators. This will hopefully provide further insight into the potential value of bilateral vs. single ITA.
In what was the most provocative study presented at ESC 2018, POET (Partial oral treatment of left- sided infectious endocarditis), the largest RCT undertaken in infective endocarditis (IE) to date, challenged the accepted dogma of 6-weeks of intravenous antibiotic therapy for IE(14). The current therapeutic recommendations in IE are based on consensus opinion and observational data. POET asked the question whether or not partial oral antibiotic therapy is non-inferior to continued intravenous therapy. Importantly, the study had very strict inclusion criteria. Patients had to be medically stabilised after receiving ≥ 10 days of IV antibiotics, or alternatively ≥ 7 days after undergoing valve surgery. Stabilised IE included: T < 380C, CRP < 20mg/L or ≤ 25% of peak value, WCC < 15 X 109 /L and a TOE was performed in all participants ≤ 48 hours pre-randomisation to exclude an abscess requiring surgery. Patients in whom the gastrointestinal absorption of oral antibiotics was viewed to be a potential problem were excluded. Of the 400 participants randomised to either partial oral or IV antibiotics, 107 had prosthetic valve IE. Fifty percent had Streptococcal IE, 28% Staphylococcus Aureus and the remainder Enterococus faecalis. Antibiotic therapy included 2 antibiotics from different drug classes for all participants and their plasma and minimum inhibitory concentrations (MIC) were measured to allow for accurate dose adjustments. At 6-months, partial oral therapy was found to be non-inferior to continued IV therapy for the combined composite primary endpoint of all-cause mortality, unplanned cardiac surgery, embolic events and relapse of bacteraemia. No difference was found for the individual parameters of this endpoint, except for a numerical difference in mortality with more deaths occurring in those treated with the conventional IV course. Furthermore, no between group differences were found during a sub-group analysis that included age, bacterial aetiology, native valve vs. prosthetic valve IE and whether or not surgical treatment was required or not. As expected, the duration of in-hospital therapy was significantly different with a median of 3 days post randomisation in the partially orally treated group vs. a median of 17 days in those treated intravenously. In conclusion, the presenter, Dr Henning Bundgaard from Denmark, explained that > 50% of all patients with IE may be candidates for partial oral antibiotic therapy. A repeat poll of the audience after the results had been presented revealed a remarkable shift from 19% to 66% of those in attendance who would consider switching their patients to oral therapy following the presentation of the POET trial results!
Delaying the progression of aortic root dilatation in patients with Marfan syndrome was addressed in the Aortic Irbesartan Marfan Study (AIMS)(15). B-blockers are still considered to be the accepted treatment strategy for this indication, with equivocal or negative evidence for Angiotensin II receptor blockers (ARB's) for reducing aortic dilatation and aneurysm formation by modulating abnormal TGF-β activity. To date, all studies evaluating the effectivenss of ARB's for this indication in Marfan syndrome have used Losartan. In AIMS the investigators chose to use Irbesartan due to its longer half-life and superior bioavailability compared to Losartan. Individuals aged 6 – 40 years were offered inclusion provided that their aortic root diameter was < 4.5cm. Concurrent B-blocker therapy was not mandated, and after a run-in period of one month of 75mg od of Irbesartan, followed by 150mg od for a further month, a target daily dose of 300mg od was continued for a 5-year period. Individuals in both the intervention and the placebo arms were followd up annually with TTE to assess for aortic root dimensions, assessed as systolic 2-D inner-edge-to-inner-edge at a core laboratory blinded to assigned treatment. The primary outcome was an absolute change in aortic root diameter, with secondary outcomes assessing changes in aortic Z-score and the requirement for surgical intervention. To allow for adequate statistical power the trial planned to enroll 490 participants but dissapointingly only managed to include 192; 88 of whom received placebo with 104 on Irbesartan. Only 57% were on B-blocker therapy, stressing just how poorly these drugs are tolerated by Marfan patients. Although underpowered, there was a signifcant reduction in the rate of progression in aortic root dilatation in the treatment arm. However, as pointed out by the discussant, Dr A Evangelista Masip, 23% of participants stopped taking Irbesartan during the trial period and aortic root measurements were assessed at end-systole and not end-diastole as is the current conventionally accepeted method. An adequately powered study assessing the potential value of ARB's, particularly with Irbesartan, in Marfan syndrome is still required.
No less than five clinical practice guideline updates were also released at this year's congress, including: The management of arterial hypertension, guidelines on myocardial revascularisation, cardiovascular diseases during pregnancy, the diagnosis and management of syncope and the fourth universal definition of myocardial infarction. Lastly, during a stimulating session on myocarditis and cardiomyopathies, two excellent talks were delivered on restrictive and dilated (DCM) cardiomyopathy respectively. Of particular interest to me was the emerging evidence on how genetic testing can be of prognostic value in the DCM group with causal mutations now being identified in up to 40% of cases. Lamin A/C mutations often initially present with non-dilated left ventricles, AV-block and atrial arrhythmia. Sudden cardiac death often precedes overt heart failure by up to 10 years in this group. They also tend to be poor responders to standard anti-heart failure therapy, and male patients who have a truncated mutation do particularly worse and are considered to be candidates for ICD implantation. TITIN mutations on the other hand tend to be more responsive to standard anti-heart failure medical therapy, with stop or truncating mutations of TITIN being the most frequent mutations found in DCM (25-30%). RBM-20, a splicing regulator of RNA binding proteins, which affects the splicing of TITIN, produces a more lethal form of CMO with sustained ventricular tachycardia. Preliminary work has demonstrated it to be a nice model of diastolic myocyte calcium overload that interestingly responds to Verapamil(16). There will undoubtedly be a continued heavy investment of research into the genetics of CMO and how various mutations influence the phenotypic expression of the disease in the near future.
Once again, I would like to thank the executive committee of HeFFSA for providing me with the oppurtuity to attend what was an exceptional ESC congress.
References
Kyriakakis CG, Whitelaw A, Bates W, et al. Percutaneous pericardioscopy in a population with a high prevalence of tuberculous pericarditis: the potenital value of mycobacterial DNA amplification in establishing an early definite diagnosis. Eur Heart Jnl 2018;39, Issue suppl_1,1 August 2018, ehy564.P692,https://doi.org/10.1093/eurheart/ehy564.P692.
Kyriakakis CG. Editorial: Chronic Coronary Syndromes – time to reassess the evidence? SA Heart Jnl 2018;15(2):98-101.
Thiele H, Akin I, Sandri M, et al. One-Year Outcomes after PCI Strategies in Cardiogenic Shock. N Engl Jnl Med 2018 Aug 25. doi: 10.1056/NEJMoa1808788. [Epub ahead of print]
Thiele H, Akin M, Sandri G. PCI Strategies in Patients with Acute Myocardial Infraction and Cardiogenic Shock. N Engl Jnl Med 2017;377:25:2419-2432.
Neuman F-J, Sousa-Uva M, Ahlsson A, et al. 2018 ESC/EACTS Guidelines on myocardial revascualrisation. Eur Heart Jnl 2018, 25 August. https://doi.org/10.1093/eurheart/ehy394.
Head S.J, Milojevic M, Daeman J, et al. Mortality after coronary artery bypass grafting versus percutaneous coronary intervention with stenting for coronary artery disease: a pooled analysis of individual patient data. Lancet 2018;391:939-48.
Maurer MS, Schwartz JH, Gundapaneni B, et al. Tafamidis Treatment for Patients with Transthyretin Amyloid Cardiomyopathy. N Engl J Med 2018;13;379(11):1007-1016.
González-López E, Gallego-Delgado M, Guzzo-Merello G, et al. Wild-type transthyretin amyloidosis as a cause of heart hailure with preserved ejection fraction. Eur Heart Jnl 2015;36:2585-2594.
Gaziano JM, Brotons C, Coppolecchia R, et al. Use of aspirin to reduce risk of initial vascualr events in patients at moderate risk of cardiovascular disease (ARRIVE): a randomised, double-blind, placebo-controlled trial. Lancet 2018. 22;392(10152):1036-1046.
Bowman L, Mafham M, Wallendszus K, et al. Effects of Aspirin for Primary Prevention in Persons with Diabetes Mellitus. N Eng Jnl Med 2018, 26 August. doi: 10.1056/NEJMMoa1804988 [Epub ahead of print].
McNeil JJ, Wolfe R, Woods RL, et al. Effect of Aspirin on Cardiovascular Events and Bleeding in the Healthy Elderly. N Eng Jnl Med 2018, 18 October. doi: 10.1056/NEJMMoa1805819.
Bowman L, Mafham M, Wallendszus K, et al. Effects of n-3 Fatty Acid Supplements in Diabetes Mellitus. N Eng Jnl Med 2018, 26 August. doi: 10.1056/NEJMoal1804989. [Epub ahead of print].
Taggart DP, Altman DG, Gray AM, et al. Randomized trial to compare bilateral vs. single internal mammary coronary artery bypass grafting: 1-year results of the Arterial Revascularisation Trial (ART). Eur Heart Jnl. 2010;31(20):2470-2481.
Iversen K, Ihlemann N, Gill SU, et al. Partial Oral versus Intravenous Antibiotic Treatment of Endocarditis. N Engl J Med. 2018, 28 August. doi: 10.1056/NEJMoa1808312. [Epub ahead of print].
Mullen M, Jin X, Child A, et al. Aortic Irbesartan Marfan Study (AIMS). Presented during Hotline Session 5, ESC Congess 28 August 2018.
Pinto Y. State-of-the-art management of dilated cardiomyopathy (4969). Session on cardiomyopathy and myocardial disease: review, update and State of the Art in 2018. ESC Congress, 28 August, 2018