Fellows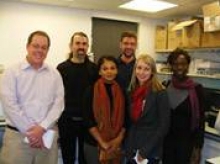 HeFSSA was involved in the UK/South Africa Cardiovascular Research Workshop that was held at the University College London in December 2010. The main research included: myocardial ischemia reperfusion injury, signalling in cardio protection, hypertrophic cardiomyopathy and heart failure and cardiovascular risk factors. The aim was to promote the work of young researchers. Prof Sandrine Lecour gave an overview on the novel prosurvival SAFE pathway to protect against reperfusion injuries. The organizers were extremely grateful for the support of HeFSSA who sponsored the participation of a South African student.
In December 2010, 5 cardiovascular research PhD students from academic institutions in South Africa were invited to attend this workshop and present their data in the UK. All the South African presentations were of excellent quality and Ms Kim Lamont of the Hatter Institute won the prize for Best Oral Presentation. Her presentation was entitled: "Drink red wine: A SAFE sip away from cardioprotection". The students also had the opportunity to visit and spend time in research laboratories within the UK.
Dr Robert Mvungi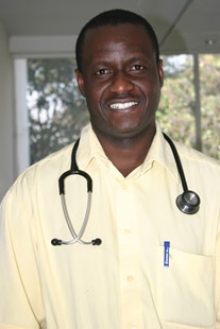 Dr Robert Mvungi from Tanzania is a WHFS Medtronic Fellow.
Dr Mvungi graduated with a Doctor of Medicine (MD) degree at the University of Dar es Salaam in 1998. He worked as medical officer in Dar es Salaam until September 2001, when he joined the University of the Witwatersrand to pursue a Master of Medicine (MMed) (Internal Medicine). In October 2005 he graduated as a Physician under the College of Medicine of South Africa (Fellowship of the College of Physicians of South Africa: FCP SA). He is currently finalising his MMed internal medicine research project "Interaction between HIV/AIDS and Infective Endocarditis in Africa".
Dr Mvungi is conducting his fellowship at the Soweto Cardiovascular Research Unit, Chris Hani Baragwanath Hospital, under the University of the Witwatersrand, with the objective to graduate as a physician cardiologist with a particular interest in heart failure in Africa.
---
Dr Vinesh Vaghela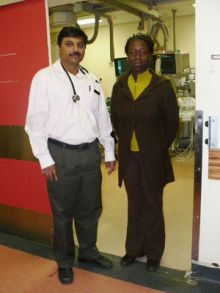 Sticares fellow, Dr Vinesh Pravinchandra Vaghela, was born in Kenya and graduated from the University of Nairobi in 1995. After several years working as a medical officer in different hospitals in Kenya, he became Senior House Officer, Department of Internal Medicine, at the Kenyatta National Hospital in Nairobi in 1998, and worked as hospital physician from 2001 to 2005 in the Coast Provincial General Hospital in Mombasa, Kenya.
Dr Vaghela graduated with a Master's of Medicine (Internal Medicine) degree from the University of Nairobi in 2001, and is a registered medical practitioner at the Kenya Medical Practitioners and Dentists Board.
He is a member of the Kenya Medical Association and the Kenya Association of Physicians. Dr Vaghela will be working as Fellow of the World Heart Failure Society from 2006-7 at the Chris Hani Baragwanath Hospital, Johannesburg, South Africa, in the Department of Cardiology.
During his Fellowship term, Dr Vaghela will receive training in resting ECGs , stress ECGs and ambulatory holter ECGs and the function of pacemakers and multicite pacemakers. He will gain experience in transthoracic and transoesophageal echocardiography, with a particlar focus on assessment conditions causing heart failure.
Under supervision of a senior consultant, Dr Vaghela will perform procedures in the cardiac catheterisation laboratory such as the insertion of permanent pacemakers, diagnostic right and left heart catheterisation and diagnostic coronary angiograms.
Dr Vaghela will be attached to our Heart Failure Clinic and our 12-bed cardiac high care unit. During this period, he will gain experience with the management of acute heart failure and other critical cardiac conditions.
Dr Kemilembe Tibazarwa
Dr Kemilembe Tibazarwa is from Tanzania, and has joined the World Heart Failure Society (WHFS) as one of two fellows for 2006 with a principle interest in heart failure. Having graduated from the Muhimbili University College of Health Sciences in Dar es Salaam in 2001, Dr Tibazarwa proceeded to seek experience in medicine within the Kilimanjaro Region of Tanzania.
Having embarked on a career in public health, Dr Tibazarwa then pursued her Master's degree in public health at the University of Cape Town, South Africa, where she specialised in epidemiology.
During her time on the 2006 fellowship, Dr Tibazarwa will gain experience in managing patients with heart failure, performing echocardiography, insertion of pacemakers, and will be actively engaged in research in heart failure at the Chris Hani Baragwanath Hospital of Johannesburg, as well as the Groote Schuur Hospital in Cape Town.